"
This is about the future—my future.
"

— Riley
Click here to see more quotes.
"Welcome to the Jungle" is the 4th episode in Season 4 of The Next Step and the 98th episode overall. It aired on March 4, 2016.
Synopsis
The new A-Troupe is uncovered. Hoping to relieve the nerves of her fellow freshman, Piper decides to form a club. When Riley is offered the opportunity of a lifetime, she must make a difficult decision.
Plot
Kate enters Studio A and beckons A-Troupe, which is revealed to consist of Michelle, Richelle, Alfie, Sloane, Piper, Noah, Amy, Henry, Skylar, LaTroy, Cassie, and Riley. The dancers perform a group dance, during which they also perform solos. During their solo, each dancer comments on why they dance.
While sitting in Java Junction, Cierra confronts Skylar about her decision to stay on A-Troupe, despite Cierra not making it. Cierra accuses Skylar of being selfish, although Skylar tells Cierra that she is the one being selfish because she doesn't want her to follow her dream of being on A-Troupe. Cierra angrily storms off and Skylar confesses that she should have never agreed to the pact, but that she would have never expected only one of them to make it onto the troupe.
Amanda performs a solo in Studio A and confesses that that she has decided to leave The Next Step. As she dances, Riley enters and watches her perform. Riley confesses that she still can't believe that Kate didn't let Amanda audition, with Amanda confessing that there is no more she can do to convince Kate. When Amanda finishes dancing, Riley reveals how weird A-Troupe is with all of the new faces, Amanda retorts that at least gets to dance. Despite how hard it will be, Amanda realizes she must leave. Meanwhile, Piper nervously paces in the Rehearsal Room, waiting for Amy, Cassie and Sloane. When they arrive, Piper asks the girls how nervous they are. The girls initially lie that they are not nervous, but eventually admit that they have nerves ranging from 91.7% to 96%. Upon this, Piper decides to create the Zero Percent Club in an attempt to get their nerves down to zero percent.
Cierra is packing up the things from her cubbie when Riley enters Kate's office. Kate tells Riley she has been offered a job as a judge on a new reality television dance show in the U.K. Since she will be there indefinitely, Kate offers Riley the position of studio head, shocking both Riley and Cierra, who is eavesdropping. Kate tells Riley that she will need to know her decision by the day's end. Cierra realizes that she has another shot at being on A-Troupe if Riley takes the position of studio head as there will be an open spot. Subsequently, Cierra tells Skylar about the situation and asks her to put in a good word for her to Riley, which Skylar begrudgingly agrees to.
Skylar approaches Riley in Java Junction and tells her that she should consider Cierra for the open spot on A-Troupe, shocking Riley at the quick circulation of news in the studio. Riley tells Skylar that if she takes the position of studio head, she will consider Cierra for the open spot. Skylar thanks her and refers to her as "Miss Riley," making Riley feel old.
Sloane suggests that she and the other girls talk about their fears. Piper reveals that she fears that people think she is on A-Troupe just because she is James' little sister, although the girls assure her that that they didn't even know who James was until she told them. Cassie admits that she fears she will have to stop dancing as a result of persistent growth, although the girls assure her that her extension will always be insane. Sloane admits that she is scared that she will have trouble with contemporary choreography because she is a hip-hop dancer, but is assured that she can be assisted by the others. Lastly, Amy admits that is scared she'll forget the choreography and mess up the entire dance. The girls laugh together as they realize that such a fear will never go away.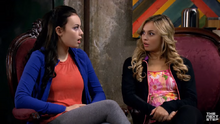 Riley tells Amanda and Michelle that Kate will be leaving and has offered her to be the new studio head, shocking Amanda and Michelle. Riley reveals that if she accepts the spot she won't be able to dance on A-Troupe but also admits that after competing at Internationals she feels like she has nothing left to prove with her dancing. Amanda tells Riley that part of her wants her to take the job so that she has a shot at being back on the troupe, but that she also wants Riley to follow her heart. Michelle agrees also urges Riley to do what will make her happy.
Riley is contemplating alone in Studio A when James accompanies her and asks her what she is thinking about. Riley reveals that she feels like if she takes the job as studio head, the years that she has spent honing her skills as a dancer will mean nothing. James assures her that those skills have led up to her being able to run the best studio in the world and urges her to take the position, but assures her that whatever she chooses, he will be behind her. Meanwhile, the Zero Percent Club makes friendship bracelets, then dances together.
Cierra and Amanda sit in Java Junction, both wishing to have the empty spot on A-Troupe. In Kate's office, Riley finally takes the position of studio head and is asked who she wishes to take her spot.
Trivia
By the end of the episode, A-Troupe consists of Alfie, Amy, Cassie, Henry, LaTroy, Michelle, Noah, Piper, Richelle, ​​​​​Skylar and Sloane, with one spot remaining.
Cassie decided to become a dancer when she saw "Swan Lake" at the age of five.
Cierra is no longer a member of A-Troupe and although unconfirmed, is no longer be a member of The Next Step Dance Studio.
Kate will be leaving her post as studio head to judge a dance-based reality television show in the United Kingdom.
Amy, Cassie, Piper and Sloane have formed The Zero Percent Club.
As of Season 7, this is the final appearance of Cierra Healey as Cierra.
Riley is replacing Kate as studio head of the The Next Step.
Continuity
Errors
It seems illogical that Riley would be offered the position of studio head; she is revealed to be younger than Emily in "Get the Party Started", meaning she is later confirmed to fifteen years old or younger in "Good Girls Go Bad". As the time between all seasons of The Next Step is four months or less, Riley can only be seventeen years old at the absolute most in this episode, meaning she is still a minor, likely still in full-time education and has no prior experience or qualifications, all of which means she probably wouldn't be a viable (or legal) candidate to run a dance studio full-time; however, this is never raised as an issue within the show.
Kate mistakenly phrases Riley's nickname as "Get Her Done Girl" instead of "Get It Done Girl".
Behind the Scenes
Kate reveals that she is leaving the studio to judge a televised dance competition in the United Kingdom; this may be a reference to The Next Step's real-life spin-off show Taking the Next Step, which is also a U.K.-based televised dance competition.
Cultural references
The title of this episode refers to songs of the same name by both Guns N' Roses and Neon Jungle.
Cast
Main
Recurring
Absent
Featured music
"I'll get to you when I get to you!" - The missing information in this section of the article is to be added.
Featured dances
Transcript
Main article: Welcome to the Jungle/Transcript
Quotes
Main article: Welcome to the Jungle/Quotes
Aftershow
Main article: Welcome to the Jungle/Aftershow
Gallery
"Look at that painting!"

To view the Welcome to the Jungle gallery, click here.
Community content is available under
CC-BY-SA
unless otherwise noted.