"In A-Troupe you know we give a hundred percent into everything!"

This article is acceptable, but should be fine-tuned so that it is concise, grammatically correct, and/or adheres to all of the site's rules. You can help the The Next Step Wiki by fine-tuning it.
Click here to see more quotes.

West East North[6] is a self-taught[7] hip-hop dancer and former member and co-head choreographer of A-Troupe.
While a member of Seeds Street Crew, West joins B-Troupe. He eventually is promoted to A-Troupe, but still remains a member of Seeds. Being a part of two troupes leads to tension when the secret is revealed and West ultimately picks to remain with The Next Step Dance Studio.[8] Although this creates a fracture in West's relationship with the members of Seeds, it is eventually mended when helps them at Regionals.[9]
After going to Regionals, Nationals, and Internationals, West decides that he wants to see the world and leaves The Next Step behind.[10]
He is made head choreographer of TNS West by Michelle.[4]
Biography
Before the show
West witnessed a bank robbery and even saw where the robber hid the money.[11] He has also been stuck in a Swedish furniture store before.[12]
West taught himself how to dance[13] and joined Seeds where he became close friends with Marcel. When he joined B-Troupe, he did not quit Seeds, making him a member of both troupes.[8]
West has modelled before.[14]
West auditions for[15] and makes it onto A-Troupe in the hopes of taking his dancing to the ultimate level.[16]
Upon joining A-Troupe, West wishes to befriend James. In an attempt to initiate camaraderie, West dances in front of James whenever he encounters him. Eventually, West's method prevails and he becomes friends with James.[17]
While looking for his extra socks, West enters Studio B to find James, Michelle, and Riley. Upon inquiry, West is presented with the routine they have been working on in order to dethrone Emily as dance captain. He joins the group members in their plot and invites Daniel to join.[18] West performs this dance with his group members for Kate and votes for Michelle to be the new dance captain along with almost all of his peers.[19]
West attempts to avoid Marcel, since neither Marcel nor A-Troupe is aware that he is a member of both Seeds and The Next Step. Thus, West is agitated when the teams agree to participate in a dance battle against each other. When his secret is found out, West picks The Next Step over Seeds, straining his relationship with Marcel.[8]
At Regionals, West overhears that Tony has been stopped at the border, leaving Seeds with only nine dancers. West steps in for Tony and helps the team qualify to the next round with 88 points. He also reconciles with Marcel.[9]
West is elated when the team wins the competition.[20]
West makes it onto A-Troupe.[21]
West spends more time with Emily, seeing the good in her.
West becomes the focal point of the Nationals small group after winning a slow-motion race. When James tells him that he wants to do the B-Twist in the routine moments before their performance, West begrudgingly tells James to make a signal if he is going to do it. Although James omits the move from the dance, West still assists the team in winning the small group round.[22]
While the team is rehearsing for the semi-final round of Nationals, West asks Emily out on a date. West shows Emily a book about a fire fairy, a loyal and fierce creature that reminds him of her, in an attempt to persuade her. At the latter of the semi-final routine, West notices Emily fumble and eventually learns that she has injured her knee.[23]
After the team wins the competition, with Amanda in place of Emily, West kisses Emily.[24]
Understanding that Emily is going through a lot, West remains her friend.[25]
West competes against Shannon in the dance battle for the Internationals team and wins.[26]
West is challenged by Eldon to audition for La Ballet de la Reine's production of The Nutcracker. Struggling with ballet, he is assisted by Chloe. Despite Chloe's reassurance, Eldon's scepticism of his technique weighs on him and he grows apprehensive about the audition and is happy when Chloe decides to audition with him. West makes it all the way to the final audition with Chloe and is astounded by her skill. He learns that while he did not make it into the production, Chloe did.[7] West encourages Chloe to take the position and eventually succeeds in persuading her. [27]
West competes in the music mystery round at Internationals and helps the team win the round.[28]
West visits an authentic restaurant in Miami and eats a bad kabob, resulting in him getting food poisoning. It appears as though he will be unable to compete in the semi-finals due to his illness but, just before the team is to compete on-stage, West recovers.[29]
West is the focal point of the finals routine, in which he is a puppeteer controlling all of the other dancers, who are marionette dolls. He is ecstatic when the team wins the competition.[30]
West is at the top of his game after Internationals, but he has a case of wanderlust. When trying to console Eldon about Thalia having moved to Poland, he gets distracted by Eldon's Costa Rican cacao and finally realizes that he is unhappy where he is. West decides to leave A-Troupe behind to fulfil his aspiration to travel the world.[10]
West receives a package from London, containing a USB drive. He discovers that it is an invitation to compete at the Bangers & Mashups International Hip-Hop Extravaganza. He accepts the invitation and signs up with Eldon and James.[31]
West is to compete in the first round of Bangers & Mashups in which he has a three-round dance battle with a dancer from another team. Before he competes, he is urged to smack talk his opponent, although West is only able to spew messages of love at his competitor. Nonetheless, West wins the round 2-1, effectively moving his team forward in the competition.[32] West gets eliminated during the two v. two round, but is content when Eldon wins the round.[33]
West wins against Avril in the final round of Bangers & Mashups, but loses to his second opponent due to "illegal touching." West is ecstatic when he and his teammates ultimately win the competition.[34]
West performs a reminiscent duet with Daniel to celebrate their time in Studio A.[35]
West becomes the head choreographer for TNS West. He brings Kingston onto the team.[4]
When TNS East and TNS West merge, he becomes co-head choreographer of A-Troupe with Daniel.[36]
West is overjoyed when he finds out The Next Step has made it to Regionals.[37]
West alongside Daniel presumably leave their positions as Head choreographers following the firing of Emily and Michelle and the hiring of Angela.
West attends The Next Step's 30th anniversary Christmas celebration.
In Piper's alternate reality, West becomes an actor. Though West is consistently out of work and often needs financial assistance from Alfie.[38]
Personality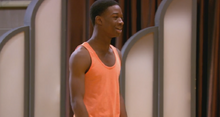 West is characterized by his oddness, calmness, and humour. He is very loving and motivational and is almost incapable of any negativity. He prides honesty and is, thus, poor at keeping secrets, proven when he reveals that
James
deleted a text from
Thalia
off of
Eldon
's phone, despite being told not to.
[39]
West is prone to taking the moral highway but isn't necessarily apt to speak out against those who are in the wrong as to not cause drama. West is also known for his incessant metaphors and unorthodox ideas, but West is hardly stupid or clueless; he knows an abundance of facts about various domains and has professed that he is good at physics.
[40]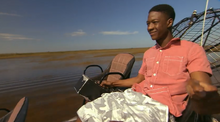 West is determined, hardworking, confident, and competitive. The primary reason he joined The Next Step was to take his dancing to the ultimate level, and he has improved dance-wise exponentially over the course of the show. He is open-minded and is always willing to try new dance styles. There is no challenge that is too big for West to attempt.
Spirituality
West believes in an "alligator god," mirroring the ancient Egyptian's belief in the deity, Sobek.
Physical appearance
Characteristics
West has dark skin, dark brown eyes, and black hair. He is quite short.
Attire
During the earlier stages of the show, West is often seen wearing orange and other bright colours, such as cyan. He also sports sleeveless shirts more often than not or a baseball jersey. As the show progresses, West retains his signature colour of orange but begins wearing darker shades like grey and black.
Abilities
Dancing
Hip-hop
:
Hip-hop
is West's dominant style. In fact, he is considered one of the best hip-hop dancers in the world.
[31]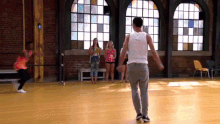 Acro: West is extremely proficient in acro and has been commended on his skill in the genre on numerous occasions.
Contemporary: Although contemporary is not West's strong style, Shantel has confessed that West is surprisingly good at it.[41]
Ballet: Ballet isn't initially West's strong style, in fact, Daniel has proclaimed that he has "biscuit feet".[42] West attempts to improve his ballet in "The Nutcracker Prince." Chloe commends his progress in the genre.
Relationships
Main article: West North/Relationships
Appearances
Dances
Solos
Duets
Trios
Group dances
Trivia
West is one of only two characters whose surname has been revealed and the second to have their middle name revealed (the first being Michelle).[43]
West loves a lot of sports, especially basketball.[44]
West would like to be chocolate pudding rather than jelly or jam.[44]
West's dream job is to teach dolphins how to dance.[44]
West, allegedly, can't swim.[45]
West can drive.[5]
Quotes
Main article: West North/Quotes
Gallery
"Look at that painting!"

To view the West North gallery, click here.
References
Community content is available under
CC-BY-SA
unless otherwise noted.