This article is about the episode. You may be looking for the song. You can find the disambiguation page here.
"
My biggest mistake was believing that Ella was my friend.
"

— Riley
Click here to see more quotes.

"When the War Is Over" is the 25th episode in Season 3 of The Next Step and the 89th episode overall. It aired on November 6, 2015.
Synopsis
On the day of the male and female solo round, Eldon struggles with the loss of his lucky coin and Riley's friendship with Ella is tested when they have to compete against each other.
Plot
Chuck Anderson introduces both the start of Absolute Dance Internationals and his co-host Ashley Leggat. The coverage is diverted to the opening ceremony, where the first team, Kingston Dance Central of Jamaica, enters the Internationals stage to the audience's applause. They are followed by Accademia Toscana di Danza of Italy, Cape Town Royal Dance Company of South Africa, Manila Paaralan Ng Sayaw from the Philippines, Stockholm Dansteater of Sweden, an all male Polish dance troupe, England's Summerford School of Dance, and finally, The Next Step Dance Studio. Eldon confesses that Internationals is going to be harder than he thought, especially without his lucky coin.
In the lobby of the Adrienne Arsht Center, Riley is marking her solo. She explains that in the male and female solo round, nobody gets eliminated, but that the Mister Internationals Soloist and Miss Internationals Soloist both gain a five point advantage for the team that they are from. Just then Ella pulls Riley aside and eventually convinces her to do a final prank; as Chuck and Ashley are reporting on camera, Ella holds up a sign that reads "HI, MUM!" while Riley goofs around in the back. An irritated Kate pulls Riley and Ella away from the cameras and, in the process, ends up holding up the sign herself, just as Chuck and Ashley notice what is happening; fortunately, the hosts manage to recover the situation by proceeding to say "Hi" to their own moms!
The Next Step watches Poland's male soloist, Bartek, perform. Eldon is extremely on edge and continues complaining that he cannot dance without his coin. James and West are extremely irritated and find the notion preposterous.
Ella and Riley check the dance line-up. They will be competing against each other, with Ella up first. Ella asks Riley if she is still doing the solo that she had practiced when she was at the studio, and Riley says yes; Ella claims that the solo was one of her favourites. Riley confesses that she doesn't want to compete against her best friend. Ella claims that it is time to get their game faces on, and then proceeds to shove past Riley.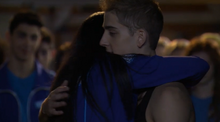 Kyle from the Swedish team is performing his solo. Seeing that he has won the Mister Internationals Soloist title thrice, he is exceptional. This makes Eldon, who is watching him dance from the stage wings with James, even more nervous. Thalia then arrives then, having been texted by James, and despite the agreement that Thalia and Eldon cannot talk until Eldon reaches 30 pirouettes, James urges her to talk to him. Thalia gives Eldon her words of support and after he claims that he doesn't know what to do, Thalia tells him to dance for her and then hugs him. Eldon now feels newly confident, as now his performance is solely about dance and Thalia. As Kyle finishes, Eldon prepares to go on-stage.
Eldon performs an uncharacteristically slow and emotional piece to "Empire Part 2." During his performance, James asks Thalia what she did to make Eldon dance so well. Thalia tells him that she told Eldon to dance for her, and James replies that he tried that. Thalia retorts that maybe that was why Eldon was freaking out. Eldon finishes his solo to a standing ovation, a moment that Eldon takes in, since it could be his last solo with The Next Step.
Michelle and Giselle watch Riley practice her solo to "On My Way." The male soloist round has officially ended, and everybody awaits the judges' verdict. The judges finally come to a decision, and they announce that Kyle is the winner. Eldon leaves, immensely disappointed, and Amanda confesses that this five point advantage will make Sweden even harder to beat.
With only four female soloists left, Maddie from Sweden takes the stage. Riley, watching from the wings, paces the floor as she awaits her turn. Ella is next to perform, and Riley wishes her good luck; she is surprised when Ella ignores her and proceeds to go on-stage. She is even more surprised when Ella commences dancing to "On My Way"...and begins doing Riley's choreography. Riley and The Next Step look on, dumbfounded. Ella confesses that there are two reasons she took Riley's solo: it is better than anything she could have created, and to throw Riley off so much that she won't be able to win. She ends with a statement she had previously said to Riley: she will do whatever it takes to win. Riley confesses that she feels like an absolute idiot and says that her biggest mistake was believing that Ella was her friend. Ella finishes the routine to a standing ovation, and Chuck comments that her stolen dance was one of the best solos seen all day. Riley doesn't know what to do.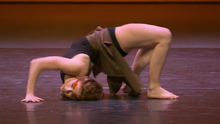 As the Jamaican female soloist performs, The Next Step tries to figure out what to do. Giselle reveals that she has a solo and suggests teaching it to Riley, but seeing as there is no time, Giselle is asked to do it; Kate takes Giselle away to change. Right on time, Giselle returns in her outfit. She performs to "When the War is Over." She confesses that she feels as though she is taking on the world, especially since she never practiced the solo. Ella confesses that the dance is great, but that she is still confident that she'll win. Likewise, Eldon confesses that Giselle is dancing amazingly, but that amazing may not cut it. After Giselle's solo, Ella approaches Riley and tells her that what the team did was very well played. Riley is furious, although Ella explains that "That's the game." Riley rebukes that it isn't a game to her, to which Ella claims that with such an ideal, she'll lose. The judges pronounce Ella as the winner, much to TNS's dismay. Riley confesses that England now has a five point advantage that can be used in any elimination round, even against them.
Trivia
Continuity
Errors
Cultural references
Cast
Main
Recurring
Guest
Absent
Featured music
Featured dances
Quotes
Main article: When the War Is Over (episode)/Quotes
Aftershow
Main article: When the War Is Over (episode)/Aftershow
Gallery
"Look at that painting!"

To view the When the War Is Over (episode) gallery, click here.
Community content is available under
CC-BY-SA
unless otherwise noted.