"
I'm not sure we can cocoon this one.
"
Click here to see more quotes.
"Work It" is the 6th episode in Season 2 of The Next Step and 36th overall. It first aired on March 21, 2014.
Synopsis
With new members in place, A-Troupe fund-raises to buy designer uniforms.
Plot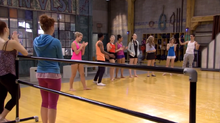 Kate notifies A-Troupe that their names have been submitted to the Nationals board, meaning that their team is official and that there can be no substitutions. A couple of West's tap-dancing friends proceed to dance for the troupe. Giselle confesses that every so often, a troupe member brings in dancers to introduce something new to the troupe. After the performance, Michelle approaches Eldon about how excited she is that they will be going to Nationals together. She hugs him, much to Eldon's discomfort, as he knows that they cannot be together due to him losing the dance battle against Hunter. Suddenly, two odd men arrive and begin measuring Eldon and Michelle. Emily asks them who they are, but they sidetrack the conversation. James begins laughing and is called out by the men who peg him perfectly as the "Don't even worry about it" type of guy.
The men are revealed to be fashion designers named Zoltan and Minnow who will be making the troupe's tracksuits for Nationals. As they present their designs, Michelle tries to talk to Eldon, but he gives her the cold shoulder. When the design is picked, Zoltan and Minnow give Kate the bill which she remarks is "huge."
At Culture Shock, Riley and Emily fill Stephanie and Tiffany in on the occurrences in A-Troupe, which only assists in making the two miss being in A-Troupe and feel left out. Later, Kate reveals that the cost of the uniforms is a steep price of $78,325.19. The team, knowing that they will be unable to afford it without some form of financial aid, comes up with an idea to have a car wash.
Stephanie and Tiffany are in B-Troupe, doing a routine created by Phoebe. Despite Stephanie enjoying it, Tiffany is definitely opposed to the troupe's laid-back nature.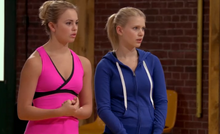 At the car wash, A-Troupe only raises $27, including a $5 tip from Deborah. Later, Zoltan and Minnow enter the studio, with the troupe wishing to tell them that they are unable to afford the uniforms. Simultaneously, Zoltan gets a call on his cellphone saying that the models for his and Minnow's fashion show are stuck in Milan and will not make it in time. Getting an idea, Michelle suggests that A-Troupe fill in for the missing models with the re-payment of having free uniforms.
Later, Stephanie comes into practice late and Tiffany nags at her once again. Stephanie pulls her aside and tells her she needs to make the best out of being in B-Troupe, and Tiffany doubts that she can even stay at the studio.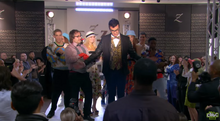 A-Troupe thinks that they are ready to model for the fashion show, until West attempts to walk on the catwalk and is immediately shut down by Zoltan. Zoltan explains the rules of modelling, and the dancers realize that it will be harder than they initially thought. The fashion show begins, and despite their inexperience, A-Troupe pulls themselves together.
In the end, Zoltan and Minnow make them their uniforms for Nationals. Once receiving them, A-Troupe tries them on and dances around in them to celebrate.
Trivia
Continuity
Errors
A-Troupe is set on getting uniforms, despite criticizing Elite Dance Academy for having them in "I'm So Excited." However, their criticism may have been based more on their dislike of Elite than their distaste for uniforms.
Cultural References
The title of this epiosde refers to a song of the same name by Missy Elliot.
Cast
Main
Recurring
Other
Alyssa Clark as a tap dancer
Ana Pacanins as a tap dancer
Chelsea Gibbs as a tap dancer
Everett Smith as a tap dancer 
Jean Linke as a tap dancer
Matt Folliott as Minnow
Miguel Rivas as Zoltan
Absent
Featured music
Quotes
Main article: Work It/Quotes
Aftershow
Main article: Work It/Aftershow
Gallery
"Look at that painting!"

To view the Work It gallery, click here.
Community content is available under
CC-BY-SA
unless otherwise noted.