"
I think we should go on a date.
"
Click here to see more quotes.

"You Love Me" is the 32nd episode in Season 2 of The Next Step and the 62nd episode overall. It aired on December 26, 2014.
Synopsis
The semi-finals at Nationals end in injury, endangering The Next Step's chances at being able to perform in the finals.
Plot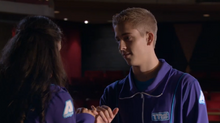 The Next Step gets some time alone on-stage in preparation for semi-finals. Eldon spots Thalia walking around aimlessly and looking at the ground. He asks her about this, and she reveals that she was trying to locate the "sweet spot." Now understanding, Eldon shows Thalia where his own "sweet spot" on-stage is and makes her pinky swear to keep it a secret. Moments later, Emily notifies the team from the audience seating area that they have ten minutes left on-stage. West approaches her and asks her out on a date, shocking her. Although she likes the idea, she admits that they should be focusing on Nationals.
The Next Step watches as CDC performs against Life of Dance. The premise of CDC's dance is that a man, whose appearance is inspired by Charlie Chaplin (complete with derby and cane), gives flowers to those who are sad, and by the end runs out of flowers and becomes sad himself. At the end, all of the people to whom he gave flowers adorn him with theirs. In the lobby, Emily asks West why someone like him would want to date someone like her who is so controlling and stubborn, and West tells her that he sees the good in her. Meanwhile, Life of Dance performs a near perfect routine with the premise of a member trying to escape the group, but still being reeled back in. They move on to the finals.
The Next Step is preparing for their semi-finals performance. They watch Joanne Chapman's School of Dance perform a routine about a woman who receives a letter that a loved one has left, and then on, the darkness (represented by dancers wearing black) consumes her. As the team continues to watch, West pulls Emily aside and gives her a book. Upon opening to the marked page, she sees a story about "fire faeries": creatures that control volcanoes, lava, fireworks and the sun. They are fierce and loyal but once their friendship is gained, anything is possible. He explains that he sees her as one, flattering her immensely. Later, The Next Step goes on-stage to perform.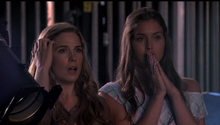 The Next Step performs their semi-final routine to "Unsinkable", the premise being that all of them want to get somewhere but cannot do it alone; as one person tries to move forward alone, they struggle without the support of everybody else. Towards the end of the performance, Emily lands awkwardly and looks to be in obvious pain. She limps off-stage, with a couple of her fellow dancers following her, and into the wings where Kate and Phoebe help her into a chair; it turns out that Emily has injured her knee badly. On a happy note, The Next Step qualifies to finals, but the happy note turns sour as the dancers realize that Emily is unable to dance and they have no alternates.
Trivia
Emily has injured her knee and will be probably unable to perform in finals, leaving the team a member short.
Continuity
One of the first scenes in the episode is shared between Thalia and Eldon; this foreshadows the events of Season 3.
The team cannot perform in the finals because of the lack of dancers, due to Emily injuring her knee, as foreshadowed in "Game On."
Cultural References
The title refers to a song of the same name by Kelly Clarkson.
Cast
Main
Recurring
Guest
Absent
Featured music
"I'll get to you when I get to you!" - The missing information in this section of the article is to be added.
Featured dances
Quotes
Main article: You Love Me/Quotes
Aftershow
Main article: You Love Me/Aftershow
Gallery
"Look at that painting!"

To view the You Love Me gallery, click here.